This is the second in a series of posts looking at Olympic posters from the V&A collection
Posters are one of the objects that preserve a material memory of an Olympic Games long after the athletes and audiences have dispersed and the event is over.  There are also a number of ghost posters for Olympic Games that never happened because the weight of world events intervened. Helsinki would have hosted the Games in 1940 had it not been for the outbreak of World War Two and a poster had already been prepared featuring a bronze statue of  runner and Finish sporting hero Paavo Numri ('The Flying Finn'). When the Games did eventually come to Helsinki in 1952 the same poster design was used with a few minor but significant modifications. Play a quick game of spot the difference between the two posters (below) and you will see that the borders of Finland, picked out in orange on the globe, have changed in the intervening years after territory was ceded to the USSR. It is a small but evocative reminder of how the war re-drew the map of Europe. Margaret Timmers, who curated the V&A's exhibition 'A Century of Olympic Posters', says that these are posters that "give me that shiver of history".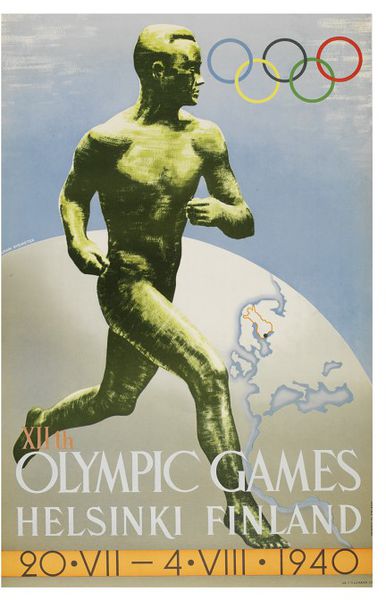 Poster for the cancelled Helsinki 1940 Olympic Games by Ilmari Sysimetsa, 1938 (left); official poster for the Helsinki 1952 Olympic Games by Ilmari Sysimetsa, 1951 (right)
One poster that now feels dominated by a sense of impending history is the poster for the 1936 Games held in Berlin under Nazi rule. Sport as a strengthening collective activity was high on the Nazi Party's political agenda as a means of underscoring their ideology of Aryan superiority. The Berlin Games, by extension, were treated as an opportunity to present German sporting mastery and organization to the world. The poster is part of this propaganda drive: the colossal classical statue rising over the Brandenburg Gate associates Germany with the heroic grandeur and power of the Roman Empire and the idea of classical physical perfection makes a devastating progression into ideas of racial purity. The arm of the statue is raised in what can easily be interpreted as a Nazi salute. The Berlin poster makes uncomfortable viewing. By contrast, visitors to the exhibition often pick out the poster  for the 1948 St Moritz Winter Olympic Games, the first Games held after the Second World War, as one of their favourites.  In design terms there is nothing out of the ordinary about it – it is very much in the general style of travel posters of the period. What I think is so beguiling about the St Moritz poster is the sense of hope it radiates in a post-war context: the sunburst gently symbolising a new dawn after the dark days of the war.
Official poster for the Berlin 1936 Games by Franz Wurbel, 1935 (left); official poster for the St Moritz 1948 Winter Olympic Games by Fritz Hellinger (right)
A wider selection of Olympic posters in the V&A collection can be found here. For further reading see Margaret Timmers, A Century of Olympic Posters (V&A Publishing)