Barbie was launched at the New York Toy Fair in March 1959. She was a radical new style of doll, a teenage fashion doll. Her debut outfit was a black and white strapless swimsuit, white sunglasses with blue lenses and high-heeled shoes. After the launch, she became an instant success, and more than 351,000 dolls were sold in her first year of production.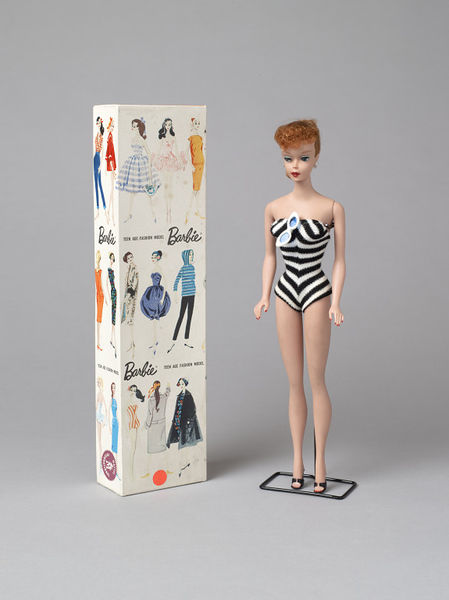 Barbie is manufactured by Mattel, a company which started life in a garage, run by Ruth and Eliot Handler and their friend Harold Mattson, making picture frames and dolls' house furniture. Today, Mattel is one of the largest and most successful toy manufacturers.
The story of Barbie began when Ruth Handler wanted to make a doll that her daughter could play with. Her daughter was a fan of paper dolls which came with a choice of outfits that you could cut out and change. Ruth thought it would be good to have a doll that had lots of clothes and accessories that children could play with. She and her colleagues carried out some research to develop a doll that would fulfil Ruth's criteria. Whilst on a trip to Europe they saw a doll called Lilli that had the look they were after, and following a few modifications to the design, Barbie was born. She was named after Ruth's daughter Barbara.
When Barbie was released she was very different from other dolls on the market. Teen dolls had been around since the 1940s and 50s, but they were quite conservative and meek. Barbie was glamorous, with an accentuated female hourglass figure, long legs and side glancing eyes. Her image captured the spirit and desire, following the Second World War, for haute couture.
Barbie was very desirable to children, especially as Mattel also sold a range of outfits and accessories for her. Her affordability and pocket money pricing undoubtedly contributed to her success. She also had a desirable lifestyle – all the things a teenage girl could dream of including any job – a model, a pop star, a city girl, air hostess, doctor, pilot. Then there were the houses, furniture, cars, friends and, of course, the boys. Barbie's long time boyfriend Ken, first introduced in 1961, is still in production but today there is more competition from a new range of boys. Barbie's family was also extended with sisters Skipper, Tutti, Stacie, Kelly and Krissy.
With ongoing competition from the British teen doll Sindy, and more recently Bratz, Barbie has had to diversify with new versions such as My Scene and Fairytopia. They have helped to ensure that she remains one of the most popular dolls of all time.