In our previous posts, we've introduced the workshop, and provided context on the book and its author. This is week is a bit of a departure from silk design, as it concerns Joubert's advice on visiting Paris. Lyonnais silk designers such as Joubert were preoccupied with how best to respond to the demand from Paris – and as such, a journey to the capital would have been essential.  It was relatively easy to undertake such a trip, taking around five days by coach.
Having studied eighteenth century French history at university, I was particularly looking forward to reading this chapter.
Chapter 15 entitled Du Voyage de Paris is essentially a travel guide – a popular form of literature in the eighteenth century.  Joubert's writings about Paris are from the perspective of a traveller, someone who is foreign to the city, and who is describing it as an outsider. He never actually resided in Paris, spending the majority of his professional life in Lyon.  He gives advice on what would be most useful to the visiting silk designer: essentially where would be best to gain inspiration. Also included is practical information, such as where to stay.  It's of little surprise that he recommends staying in the centre of the silk dealing district – the rues Betizi, de la Limace and Coitre Sainte Opportune.
Joubert's Paris is thirty years prior to the establishment of the first public museum in France- the Louvre wouldn't open until 1793.  However, he mentions the gallery at the Luxembourg Palace, which opened in 1750, and was available to visit two days a week.   A significant part of my job at the museum is to facilitate public appointments in the stores at Blythe House, often for designers who use the collections for inspiration.  It was interesting to read that textile designers were doing very much the same thing more than two hundred years ago.
Joubert is known for depicting flowers in his designs, particularly roses, and this is evident in what he recommends to see.  He specifically mentions paintings which portray flowers particularly well, and recommends a visit to the botanical gardens.
He encourages the aspiring silk designer to enjoy the general culture of Paris – including a trip to the theatre.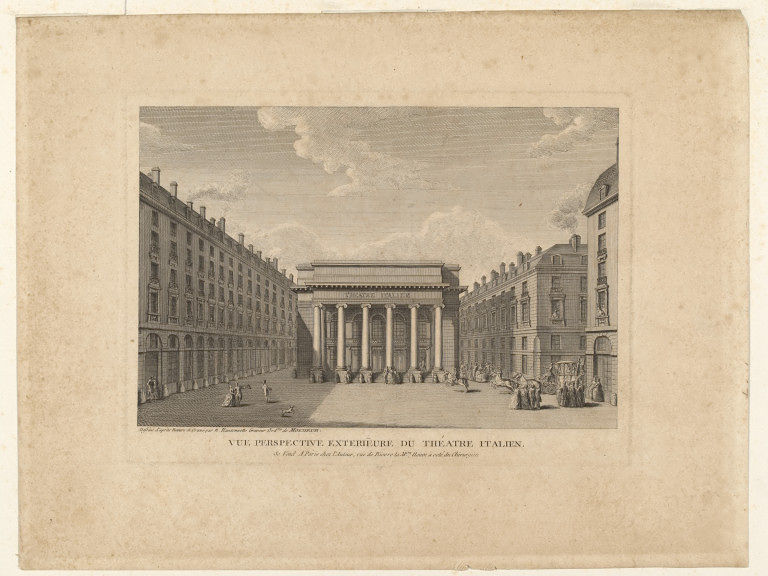 If one ventures outside of Paris, then a trip to Versailles is recommended Here,  he says, the beauty that nature and art have produced can be seen.  He does admit that the experience of visiting can be overwhelming, commenting that the designer must see Versailles in one day.  Otherwise, it is too easy to focus too much on the detail and switch from one thing to another. I can definitely empathise with this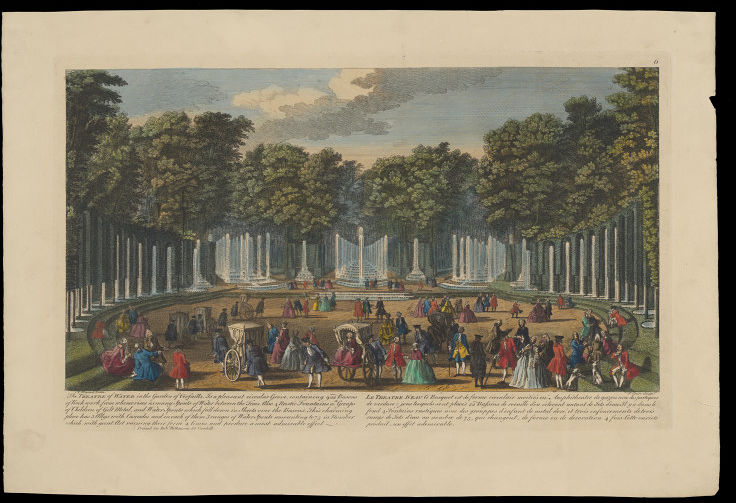 Visits to tapestry studios, the Sevres porcelain factory, and the Savonnerie carpet manufactory were also recommended to gain an understanding of what other industries were producing at this time.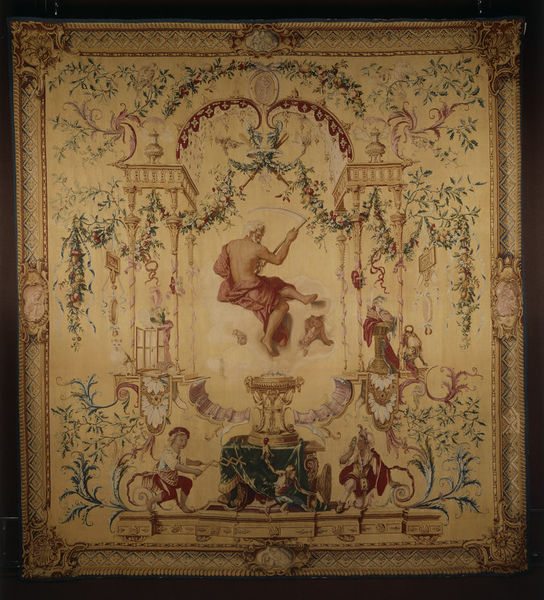 Shops and shopping made for an essential part of the trip – as it would in the modern day.  However, the silk designer's intentions should not be to indulge in retail therapy, but rather to experience how silks were displayed and marketed.  Paris was the centre of the consumption and production of luxury goods in the eighteenth century, which Joubert would have been well aware of.  The area surround the rue St Honore was particularly notable for its silk merchants – and these merchants relied heavily on Lyonnais silk.  It's been estimated that the Paris shops carried stock ranging in value from under 100,000 livres to more than a million. Several shops in Paris advertised as being specifically linked to Lyonnais suppliers.   Joubert offered advice on silk dealers in his manual, mentioning Jean Francois Barbier by name.
As mentioned in the previous couple of posts, we're really looking forward to the upcoming conference on Joubert – Fabrications, Designing for Silk in the Eighteenth Century,  which now has booking details: http://courtauld.ac.uk/event/fabrications-designing-for-silk-in-the-eighteenth-century
Reference: Carolyn Sargentson,  Merchants and Luxury Markets: The Marchands Merciers of Eighteenth-Century Paris, London: Victoria and Albert Museum in association with the J. Paul Getty Museum, 1996