This blog is by El Affleck, a Masters student in Queer History at Goldsmiths University.
I am currently studying an MA in Queer History at Goldsmiths University and recently finished a student placement with the V&A LGBTQ Working Group under co-chairs Alice Power (Assistant Curator, V&A East) and Zorian Clayton (Curator, Prints). My role included working with Zorian to research objects in the Word & Image department for the creation of an LGBTQ+ Topic Box of queer works of art and design. This is now available as an educational resource in the Prints and Drawings Study Room. I was particularly drawn to this photograph in the box depicting a portrait bust of Marie Laurencin, which sparked some thoughts on providing space for queer speculation, double-readings, and non-normative desire on stage.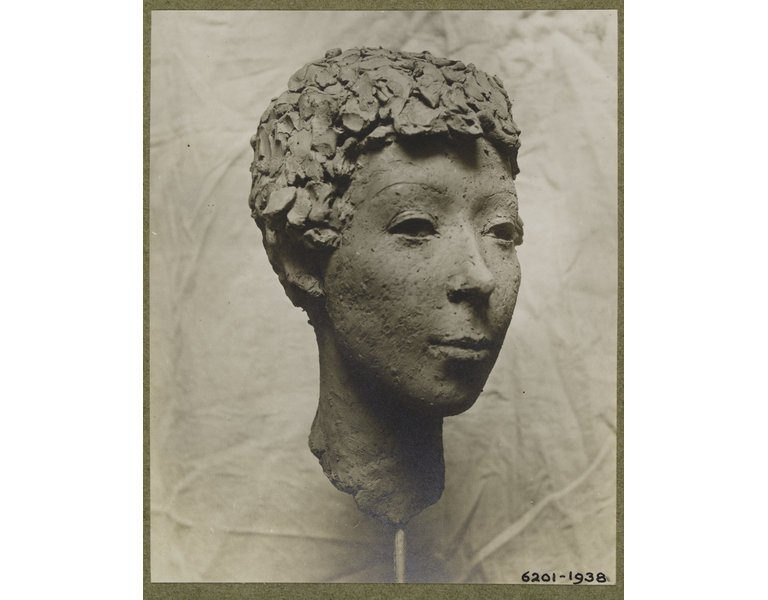 I had never come across Laurencin's work before but fell in love as soon as researched further. She preferred to paint women over men, often charging double for male commissions. While not explicitly lesbian, her paintings leave themselves open to interpretation. They often feature intimate portraits of young women surrounded by menageries of deer and dogs, like a 20th-century Diana with her nymphs.
Active in the emerging gay and lesbian society in Paris in the 1920s, she connected with many artists who were variously moving in these circles such as Serge Diaghilev, Jean Cocteau, and Francis Poulenc. She frequently attended the salon run by the prominent lesbian couple Gertrude Stein and Alice B. Toklas, with Stein becoming one of her first patrons.
Alongside painting and illustration, Laurencin also tried her hand at theatrical design. Her most influential work was in collaboration with Diaghilev's Ballets Russes, designing the costumes and set for Les Biches (1924). Choreographed by Bronislava Nijinska and designed by Laurencin, gender and sexuality are refreshingly represented from a female perspective. The outfit below was designed as an androgynous page-boy costume for principal ballerina, Vera Nemchinova.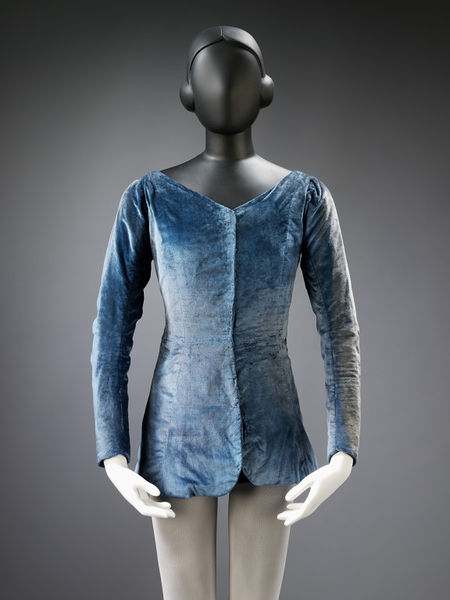 The critic Cyril W. Beaumont remembers, 'a genuine cross-section of a phase of contemporary life, a presentation rendered the more piquant by the very delicacy of its considerable imputations.' These imputations centered around alternative expressions of sexuality, playing on cross-dressing and understandings of gender diversity to explore alternative desire on stage. It proved to be a very popular, if ephemeral, ballet made more significant because of the female design influence.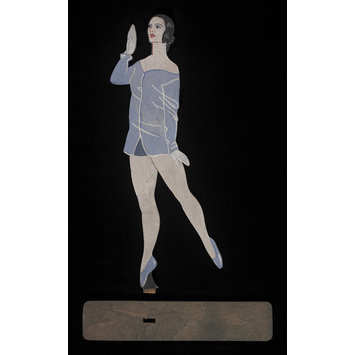 Later in her career Laurencin moved into illustration, notably providing the drawings to accompany Edith de Beaumont's translation of Sappho's work (1950), and this 1948 commission for a wine bottle label incorporating two women.
To find out more about Laurencin or the Ballets Russes, you can explore further material via Search the Collections or visit the Prints and Drawings Study Room to view the LGBTQ+ Topic Box.