Museum Skills: A Practical Toolkit
Online course
+44 (0)20 7942 2000
Considering a career in galleries and museums? Looking to expand your range of skills and knowledge? Over ten weeks, we will delve into current debates around cultural institutions, collections, curation, exhibitions and audiences…

Using the V&A's practical expertise as a catalyst for discussion, this course offers a rare opportunity to go behind the scenes in a range of departments and learn how a national museum operates.
V&A staff and expert colleagues from across the UK will discuss their roles and reflect on the constantly changing landscape of today's cultural sector. We will offer a fresh and contemporary perspective to help shape your understanding of the practical skills you need working in museum and gallery settings.
This online course comprises live presentations, panel discussions, exclusive interviews, and group workshop sessions, designed to create an engaging and interactive experience in whichever time zone you are joining from. You will gain an understanding of a broad range of current thinking and critical approaches to museum making.


Learn from leading industry professionals wherever, whenever: watch sessions live or view the recording later in your own time.


Time to explore: over 35 hours of learning content over 10 weeks.


Consolidate your learning: download session notes, copies of the presentations, and additional study materials from our secure Microsoft Teams learning environment.


Join the conversation: share your perspective with your fellow attendees and support each other in your further enquiries outside of course time.


Learn at your own pace: session recordings and study materials are available for 10 weeks after the course ends, so you'll never miss a minute


Book online today, or if you prefer to be invoiced, please contact us at hello@vam.ac.uk
Read more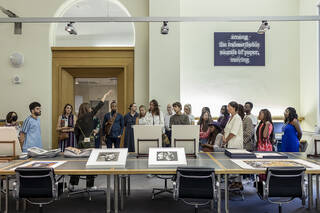 Course Leader

Matilda Pye

Matilda Pye is a curator, educator and a V&A Research Institute, Paul Mellon, Public Engagement Fellow. Since 2004 she has worked with museums and galleries in the UK and Internationally including Tate, the National Portrait Gallery, Royal Museums Greenwich and the Baltic Centre for Contemporary Art.
It was good to hear directly from some of the key people working through the institution. Matilda was a really excellent facilitator and her knowledge from an institutional and curatorial perspective invaluable. Previous Professional Development course attendee
By the end of this course you will be able to:
- provide an in-depth study of the workings of a major museum, exploring the range and diversity of its public programme;
- develop a critical awareness of debates and dialogues that relate to the heritage sector;
- develop the skills and contextual knowledge to critically assess different museum projects, from exhibitions to audience development;
- gain a deeper understanding of the opportunities and challenges faced in the heritage sector.
- expand insight and knowledge of how a national museum operates from the inside.
V&A Academy is actively committed to encouraging a more diverse and inclusive museums and heritage sector. We are offering 10 free places for those who face barriers to the museums and heritage sector due to ethnicity, socio-economic background, disability, and sexual orientation. Inclusive Place Applications have now closed.
V&A Academy Online. A learning environment you can trust.
V&A Academy Online courses are built using the latest Microsoft software. Tune in to expert lectures live, or catch up later on demand. Download handouts and presentations. Join the discussion in a secure, closed class environment, wherever you are.
Online course: Museum Skills: A Practical Toolkit
28 April 2023 - 7 July 2023
£675.00
Call to book +44 (0)20 7942 2000
Need help enrolling? Talk to the admissions team:
+44 (0)20 7942 2000
Open 10.00 - 13.00, Monday to Sunday (closed 24-26 December)