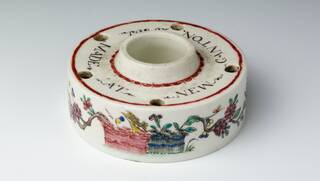 Join Dr Lucia Burgio, Dr Caroline McCaffrey-Howarth, Dr Georgia Haseldine and Dr Kelly Domoney to investigate London's first porcelain manufacturers, Bow Porcelain Factory and Chelsea Porcelain Factory. Together with the Ashmolean Museum and London Borough of Newham, the V&A has conducted scientific analysis into these fascinating mid-eighteenth century objects and has collaborated with communities from Newham and Kensington to remake and reinterpret them.
This V&A Research Institute project 'Experimentation and Placemaking: connecting communities with the technological and innovation histories of London's early porcelain Manufacturers' has been made possible by the Arts and Humanities Research Council's (AHRC) Capability for Collections Fund and support from Newham Heritage Month.
Dr Lucia Burgio is Senior Conservation Scientist, manages the V&A Science Lab, leading the analysis and technical examination of museum objects as well as scientific research activities and collaborations. She is a Fellow of the Royal Society of Chemistry, has been an Honorary Research Fellow at UCL since 2001 and has been chairing the AMC Heritage Science Expert Working Group, Royal Society of Chemistry, since 2014. A recipient of the Theobald Lectureship from the Analytical Methods Committee (RSC), her main interests include pigments and other artists' materials as well as oriental and American lacquer.
Dr Caroline McCaffrey-Howarth is an art historian and curator. She is Lecturer in 18th- and 19th- Century History of Art at the University of Edinburgh and was previously Curator of Ceramics and Glass 1600-1800 in the Department of Decorative Art and Sculpture at the V&A and Tutor in History of Design with the V&A/Royal College of Art. She is currently writing two books, one on the Victorian ceramics collector Lady Charlotte Schreiber for Lund Humphries (2024), and an academic monograph entitled Sèvres-mania: The Craft of Ceramics Connoisseurship for Bloomsbury Academic (2025).
Dr Georgia Haseldine is an artist, researcher and public engagement practitioner. She is currently Curator of the V&A East Storehouse (opening 2024), a radically reinvented collections store that will offer visitors unprecedented access to the V&A's collection of art, design and performance as well as offer a behind-the-scenes encounter with the museum, its services and activities. She previously led The Question of Clay research project with Chicago-based artist Theaster Gates where through a series of collaborations she set up a temporary brickworks and performance space in east London as well as instigated a community-led research and making project in Stoke-on-Trent reimagining Wedgwood's anti-slavery medallion. Before this she worked at National Portrait Gallery and Queen Mary University of London, where her work as an art historian of protest won her several awards.
Dr Kelly Domoney is Conservation Manager (Preventive, Science and Technical) at the Ashmolean Museum, University of Oxford. Her research and publications centre on the application of non-destructive analytical techniques to the study of archaeological and historical objects in order to answer questions on manufacturing, technology, conservation, restoration and dating. She specialises in compositional characterisation of 18th and 19th century European porcelain and its decorative components using X-ray Fluorescence.
To see our full Autumn 2022 Lunchtime Lecture Programme, click 'Download Programme' on the right of this screen.
Header image: Inkstand, Bow Porcelain Factory, 1751. ©Victoria & Albert Museum, London