Little Amal: I'm 10 Today
Little Amal is the giant puppet at the heart of The Walk, travelling 8,000km in support of refugees.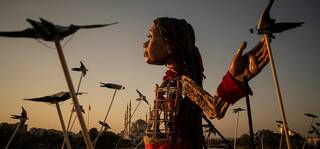 Little Amal will celebrate her 10th birthday party at the V&A with the community of Play for Progress who will join her in a participatory performance. Amal will be presented with a birthday cake made by Yotam Ottolenghi.
//
Priority access will be given to invited community and charity groups.
//
For general entry, visitors will need to book a free timed ticket to the museum at 11.00 or 13.00.
//
Filming and photography will take place at this event.