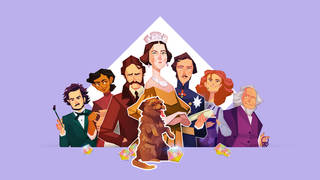 Use your mobile or tablet and our free Wi-Fi when you visit. Type in the addresses below to add some play to your day with characters, quizzes and even hairstyling challenges to complete.
V&A Secret Seekers
Let eight characters from the V&A's history guide you on a treasure hunt to unlock the secrets of the Museum hidden in its walls: vam.ac.uk/seekers
Design a Wig
Get creative and design your own fantastic 18th-century wig at vam.ac.uk/designawig
Terrible Trades
See if you can overcome the gruelling challenges of a trades apprentice to rise to master craftsman at vam.ac.uk/terribletrades
Recommended for ages 5+
Free Wi-Fi, no need to download
You can play all of our online games at the Museum on your phone or tablet.
V&A Secret Seekers is best played in the building but you can also enjoy Design a Wig and Terrible Trades online at home.
V&A Secret Seekers is generously supported by the Heritage Lottery Fund.