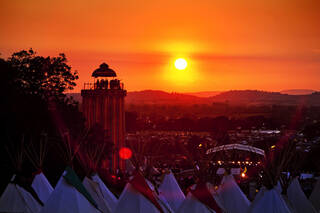 Hear from co-creators and collaborators in this exclusive online conference taking you backstage to explore the evolution and influence of the world-famous Glastonbury Festival. Speakers include Head of Events at Greenpeace, Bob Wilson and Founder and Creative Director of Arcadia, Pip Rush, Dr Roxy Robinson and Dr Beatriz Garcia.
This is an online event, featuring pre-recorded talks and panels and live Q&A sessions. Links to the Conference content and Q&A sessions will be published on the day of the Conference through a blog page. Please return to this event listing at 10:00 am on Friday 25 June to access the blog and join the Conference.
First launched in 1970, tickets to the first Glastonbury were £1 – including free milk from the farm! Today, Glastonbury attracts over 200,000 festival-goers each year, and has grown into the world's largest Green Fields event. But Glastonbury is more than the world's greatest music festival; it is a space that encourages freedom, creativity, belonging and expression, inviting people to come together and participate in a mass experience unlike any other.
Produced in partnership with the AHRC as part of the Glastonbury @50: Mapping and Visualising Festival Culture project.