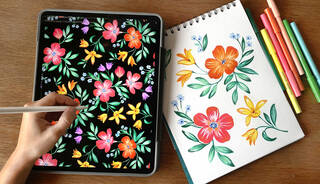 Join artist and designer Silvia Ospina to create a repeating pattern inspired by nature, combining traditional hand-painted techniques with digital tools. Taking inspiration from Beatrix Potter's naturalistic style, we'll learn the fundamentals of sketching flowers and plants, before drawing floral motifs with pens and markers. Finally, Silvia will guide you in digitising your artwork, using the Procreate app to turn your artwork into a seamless repeating pattern. By the end of the workshop, you'll have your unique botanical pattern and piece of art which can be printed on a variety of products including stationery, textiles, and homewares.
Participants will need access to an iPad tablet to take part in this event and will need to install the Procreate drawing app (https://procreate.art/).
This event will take place through Zoom and will not be recorded. Attendees must be 18+.
This event is available globally. If you are joining us from outside the United Kingdom, please use a time zone converter to check your local time.