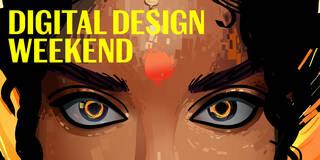 This Digital Design Weekend preview takes place alongside Friday Late at the V&A.
Join artists and designers for an evening of free immersive experiences, playful interactive installations, workshops, talks and family-friendly activities taking place around the museum.
Digital Design Weekend continues 23-24 September from 10.30 to 17.00.
Click "Download programme" to discover the full line-up.
This new edition of the festival gathers 25 artists, designers and technologists for a weekend of free workshops, talks and demonstrations that explore a range of themes at the intersection of art, design and technology.
The programme this year presents a series of interactive exhibits enabling visitors to connect through messages of hope, dig deep to reveal their inner strength or to get creative with multi-sensory fashion experiences. The festival also invites visitors to explore new creative territories uncovered by artificial intelligence through playful experiments that examine issues of trust, bias, and identity. Finally, with the backdrop of the climate crisis, a special showcase asks visitors to reimagine their relationship to nature and to connect with non-human and multispecies ecosystems.
Events are free and drop-in, but places for some are limited, so please arrive early to avoid disappointment. Most events are suitable for all ages.
Cover image: "Maya: The Birth of a Superhero", an immersive experience by Poulomi Basu and CJ Clarke showcased in the John Lyon's Community Gallery.
Header image: Poulomi Basu and CJ Clarke