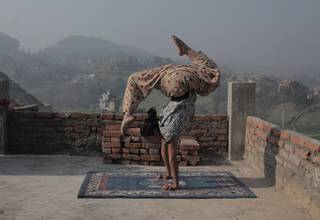 Even When I Fall tells the incredible story of Nepal's first and only circus – Circus Kathmandu – set up by survivors of child trafficking to Indian circuses. It harnesses the visual power of circus to give a unique perspective into the complex world of human trafficking. It highlights the beauty of Nepal and tells a vital story of resilience against all odds.
Before the film there will be a screening of 'Beyond the Big Top – A Glimpse into Circus in the UK' - a new short documentary film by Sky Neal (approx 5 minutes).
After the film there will be a a Q&A with the director, Sky Neal, and producer, Elhum Shakerifar.
Part of V&A Performance Festival 2018